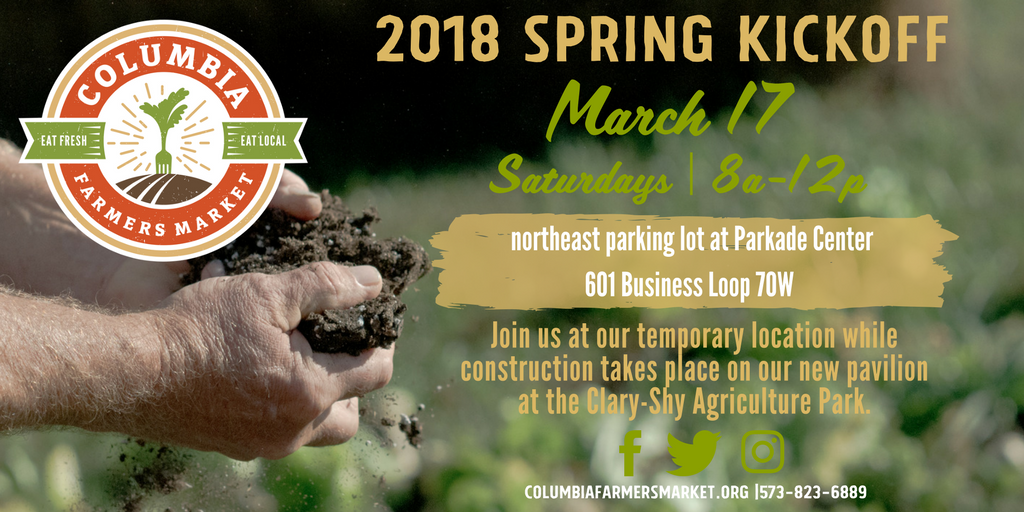 SATURDAY SUMMER MARKET
Saturday 8am-12pm (Opening Day-March 17, 2018)
Parkade Center, northeast parking lot, 601 W Business Loop 70 W (Map) *This is a temporary location while construction of the MU Health Care farmers market pavilion takes place at the Clary-Shy Agriculture Park.  Upon completion, CFM will relocate to Clary-Shy Agriculture Park.  Please follow our social media pages for updates!  Learn more about the Clary-Shy Agriculture Park at buildthistown.org.
WEDNESDAY MARKET
Wednesday 4pm-6pm (location and start date TBD)
FORUM CHRISTIAN CHURCH
Thursday 3pm-6pm (May-October)
3900 Forum Blvd (Map)
WINTER MARKET
Saturday 9am-12pm (Dec 2, 2017-March 10, 2018) (closed 11/25 and 12/30)
Parkade Center, 601 W Business Loop 70 W (Map)
*Starting and closing dates are tentative, depending on product availability and seasonal weather.  Please visit our Facebook page for updates on official opening and closing dates.
---

We accept EBT/SNAP, checks, debit and credit cards at all markets. 
Did you know SNAP/WIC eligible families can match up to $50 every Saturday in market tokens?  Click here for more information.
Thanks for shopping with us!