At CFM, we believe that all people deserve to eat great, local food. That's why SNAP benefits are exchangeable at the market for tokens. Come see what options the Columbia Farmers Market has available for you and your family!
How?
Access to Healthy Foods SNAP/WIC Match

Stop by the SF&C booth and sign up (first booth on the north side of the east entrance). Take your new Access to Healthy Foods membership card to the Oasis (center booth of South side, next to south entrance).  Swipe your SNAP/EBT card for any amount and receive up to $25 match in tokens.  Spend tokens with CFM vendors for any SNAP eligible products! Click HERE for more info.

Double Up Food Bucks Match

Bring your SNAP/EBT card to the Oasis booth at any

Saturday

,

Wednesday

or

Thursday

market. Swipe your card for any amount and match up to $25 each market.  Matching tokens are eligible for fresh fruits and vegetables. Click HERE for more info.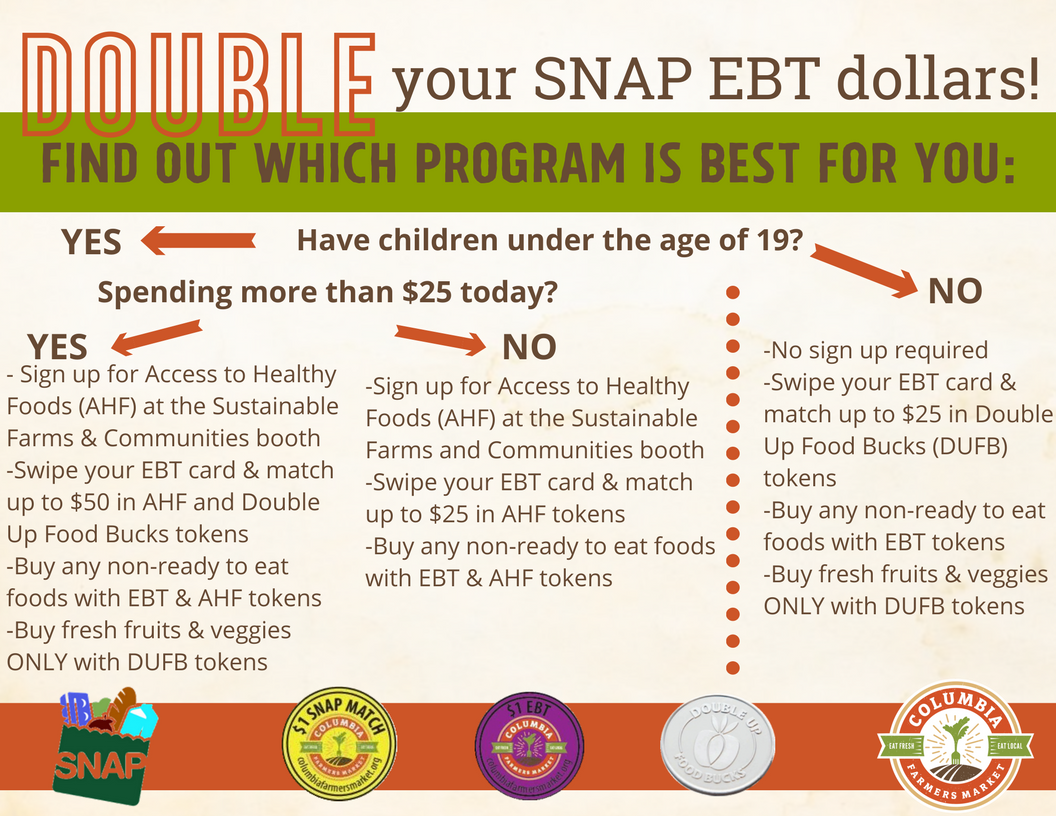 Our sister organization, Sustainable Farms & Communities has been working to help alleviate hunger in our community, since 2011. The Access to Healthy Food (AHF) program helps low-income families with young children eat healthy food by matching SNAP and WIC benefits at the Columbia Farmers Market. Families that receive SNAP and/or WIC beneifits with children under the age of 19 can are eligible to double their benefits up to $25 each Saturday market.
Started in 2017, CFM additionally added the Double Up Food Bucks SNAP matching program.  The new Double Up Heartland Collaborative is aligning and scaling up successful healthy food incentive programs. Partners in this strong, two-state effort will serve more farmers and low-income families with the USDA Food Insecurity Nutrition Incentive program. Over 1.1 million Kansas and Missouri residents rely on federal food assistance via the SNAP program. Double Up Food Bucks makes it easier for low-income families to eat fresh fruits and vegetables while supporting family farmers and growing local economies.