Sandy Creek Farm
Randy and Ronda Thiessen
Franklin, MO
Ronda and Randy Thiessen bought their current farm in 1992.  What started as a small operation that allowed them to sell iris bulbs at CFM in 1993 has since blossomed into a full-fledged orchard.  You can find trees loaded with cherries, peaches, pears, apples, and even mulberries depending on the time of year.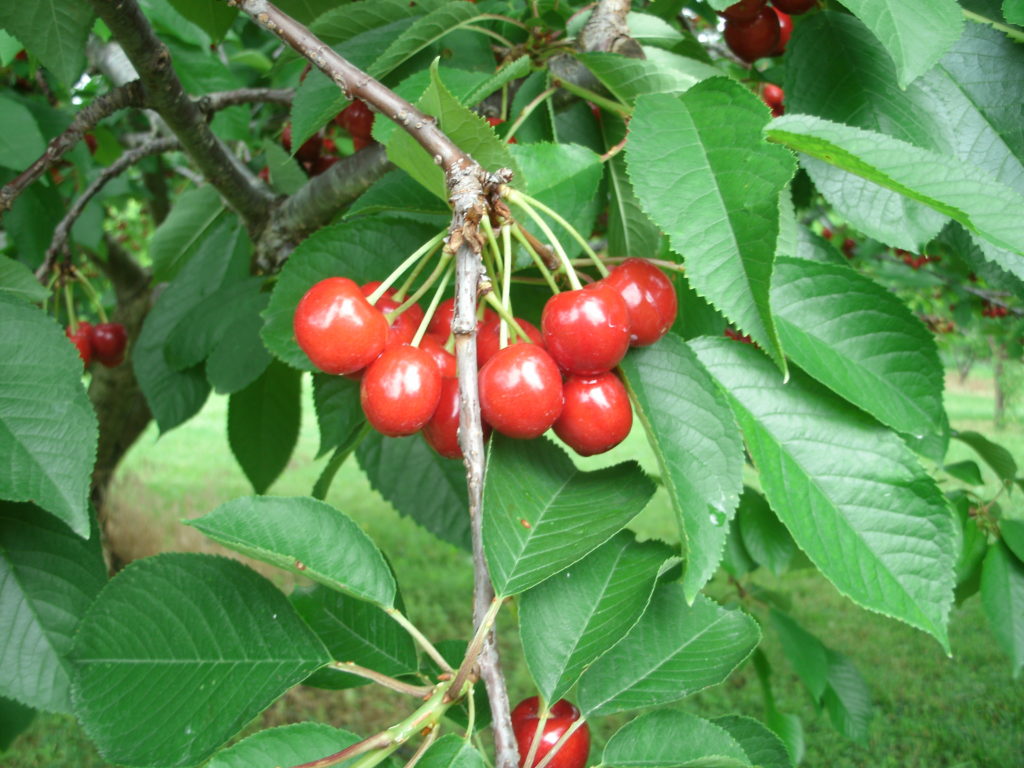 Sandy Creek Farm is home to 28 varieties of peaches, 19 different apple varieties, both pie and sweet cherries, Asian pears, blueberries, and even pecans.  Although the Thiessens may be known for their fruit now, Sandy Creek has gone through a few different agricultural phases: "For several years we sold a variety of produce.  As time went on we transitioned to the orchard," says Ronda.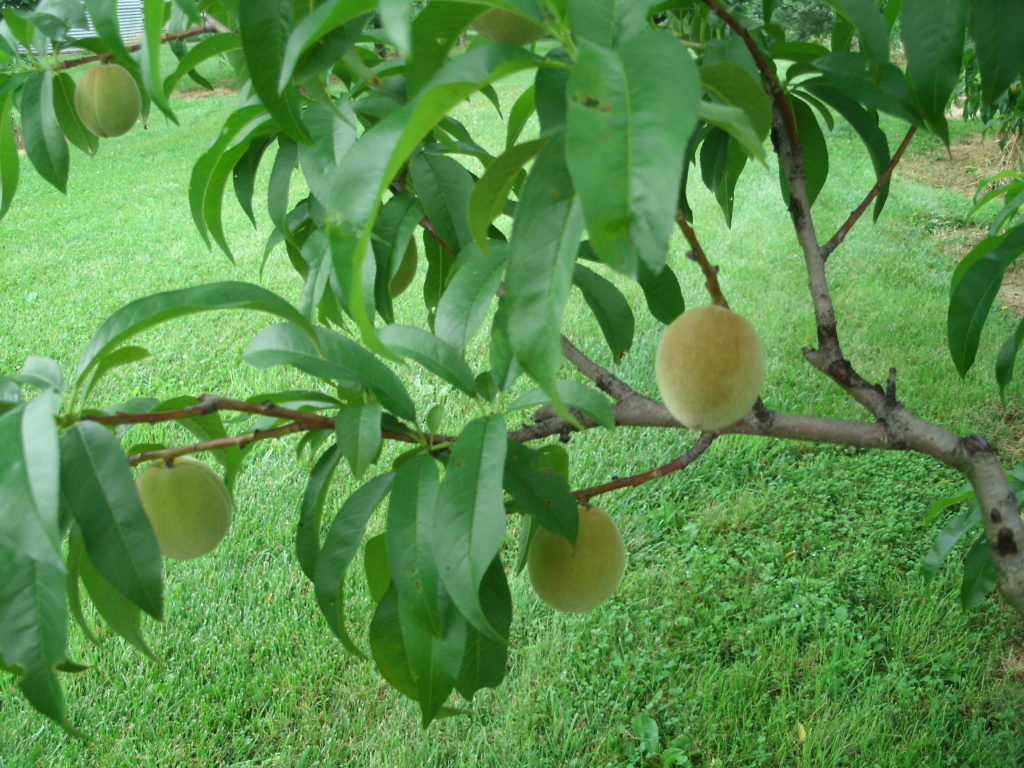 While the Thiessens first joined CFM in 1993, they took a 4-year hiatus to sell at another market.  Ever since 2008, CFM has been proud to have Sandy Creek Farm as one of our premier fruit vendors.  Quite a few market shoppers love the Thiessen's wide selection of fruit, as is evidenced by the line forming in front of their stall every Saturday they attend market!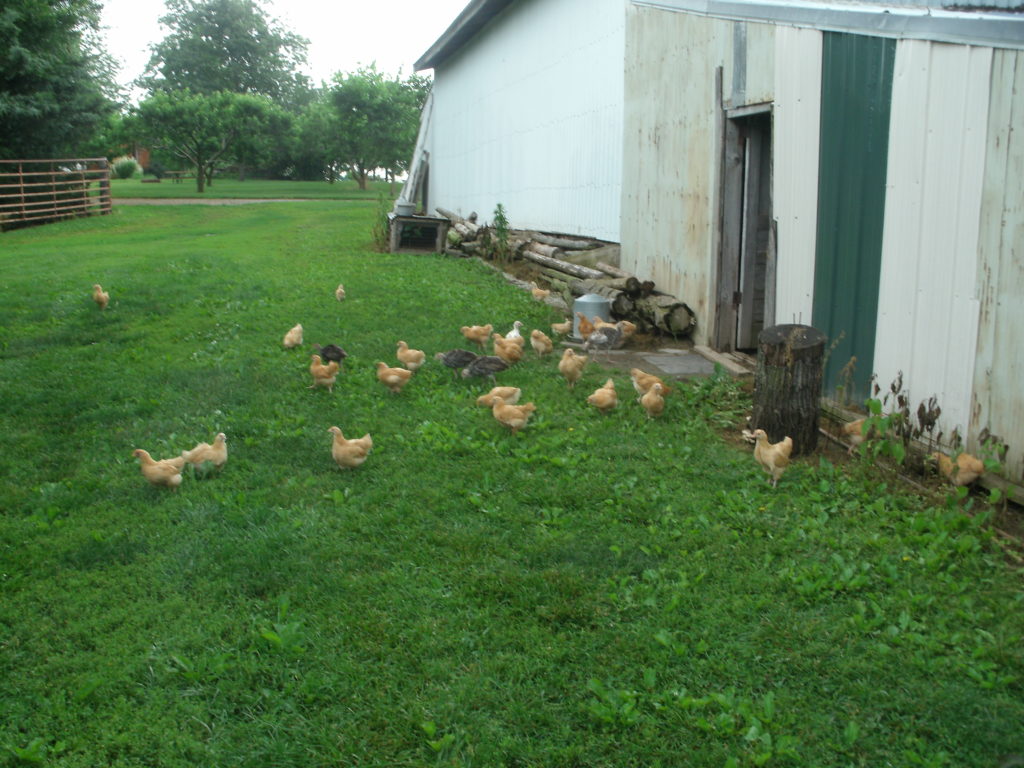 Ronda and Randy enjoy both tending their orchard as well as selling at market.  They cite the smiles on their customers' faces as one of the reasons they love being a part of CFM.  Another reason they like the market so much is that they find fresh peaches and cherries as good as any money—vendors will readily swap some of their produce for the Thiessens' famous fruit.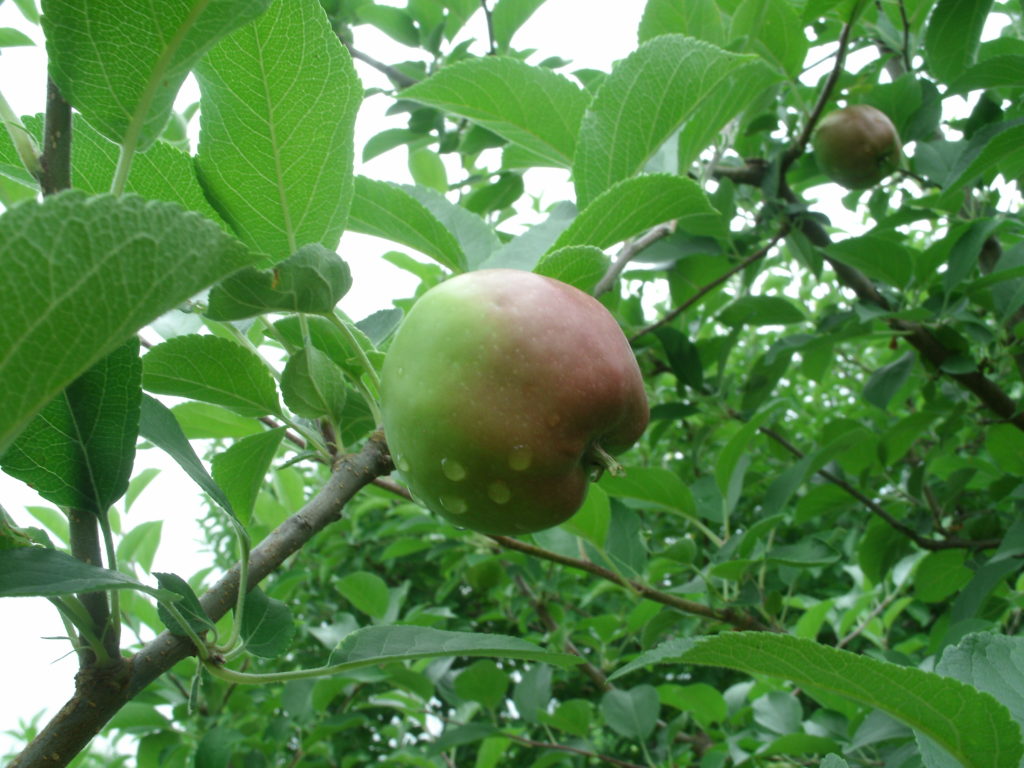 A lot of time and effort goes into making sure that market shoppers, family, and friends have access to pristine peaches and choice cherries.  Spraying the trees to keep fruit free of pests and disease begins in the spring and continues on throughout the fruiting season.  Before fruit is ready to harvest, Ronda and Randy have to go through and thin fruit from the trees by picking some early on; this is to ensure that the peaches, apples, and pears grow to a large enough size to be enjoyed.  The Thiessens have planted several varieties that ripen at different times throughout the season so that they can manage the orchard by themselves.  While Sandy Creek Farm starts harvest in June with the sweet cherries, Ronda and Randy are assured work throughout the year: "We progress through our varieties of fruit throughout the summer and into the fall."  It's not uncommon for the pair to wake up at 4:30 in the morning to get to Saturday market!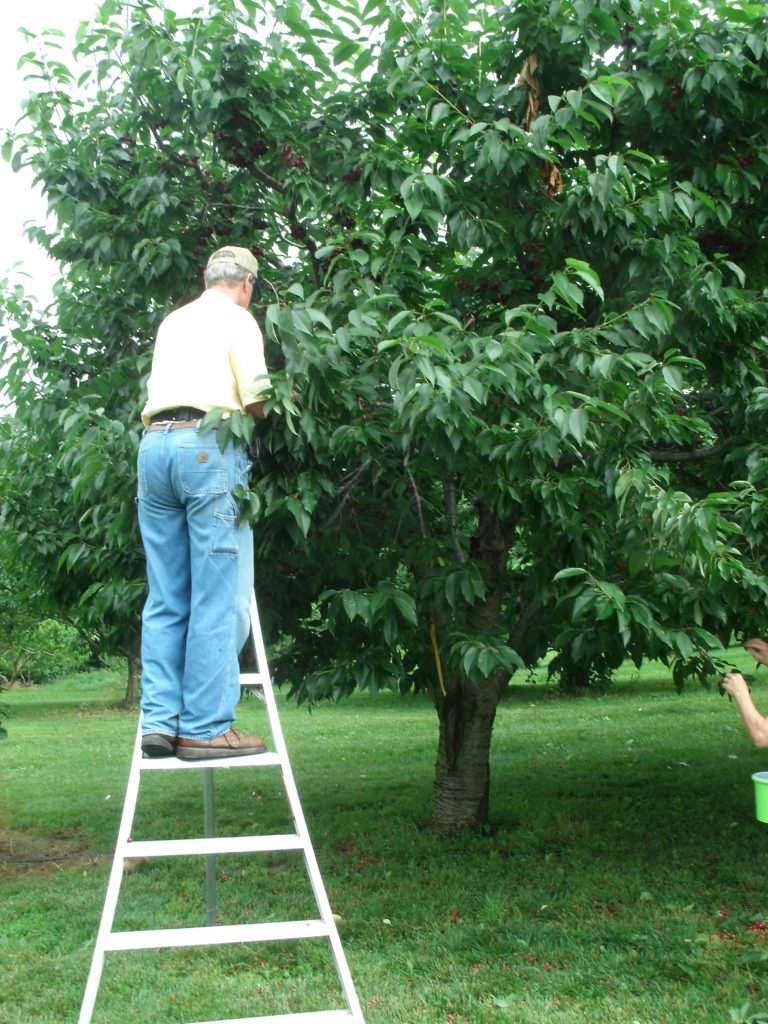 In addition to the orchard, the Thiessens have a herd of beef cattle.  Ronda even goes out and milks a Jersey cow regularly!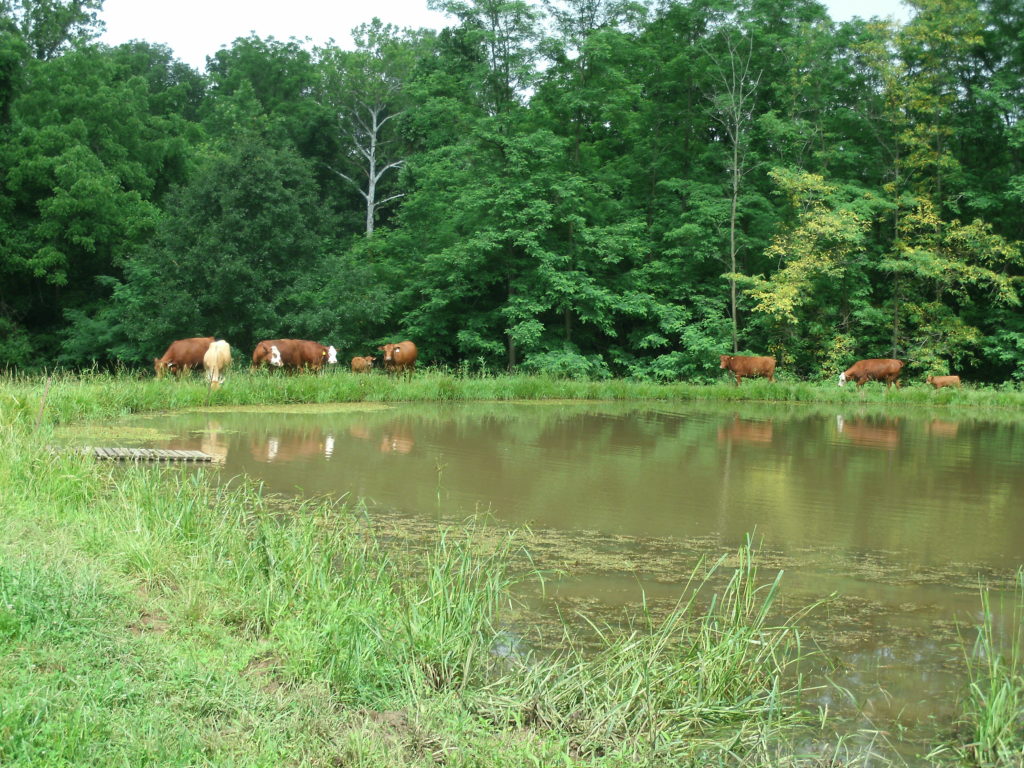 It shouldn't come as a surprise that the Thiessens, as a result of their work, subscribe to the Fruit Growers News so they can stay up-to-date on all of the ways in which they can improve their orchard.  As well as being CFM vendors, the Thiessens are also members of the Missouri Farmers Market Association.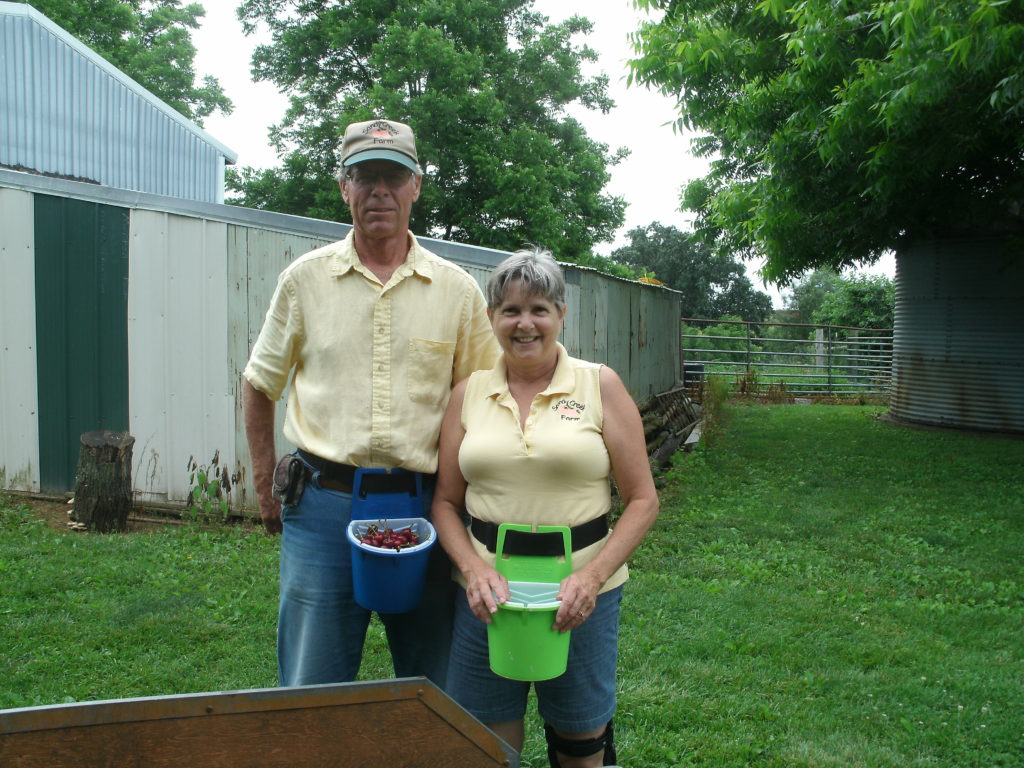 Now that you know about all of the work that went into producing the fruit you buy from the Thiessens, don't forget to check the CFM website or Facebook page to see which markets they will be at!
Southern Pecan Pie Bars
Ingredients
For the crust:
1 cup butter, softened
2 cups all-purpose flour
1/2 cup confectioner's sugar
For the filling:
3 eggs
1/2 cup sugar
1 cup corn syrup
1 teaspoon vanilla
1/2 stick butter, melted
pinch salt
2 cups pecans
Instructions:
For the crust:
Preheat the oven to 350.
Mix together butter, flour, and confectioner's sugar.
Press into the bottom of a 9x13-inch baking pan.
Bake for approximately 15 minutes, or until lightly golden brown.
For the filling:
Beat eggs.  Add sugar and mix.
Add corn syrup, salt, and vanilla.
Mix in melted butter.
Add pecans and pour into crust.
Bake 30 minutes until golden brown.
Peach Cobbler
Ingredients: 
1 stick butter
1 cup sugar
1 cup milk
1 cup self-rising flour
2 cups fresh peaches, diced
Instructions:
Melt butter in 2 quart casserole.
Mix together flour, sugar, and milk; pour into melted butter in casserole. (Don't stir)
Pour peaches all over top and bake at 375-400 degrees for about 40 minutes.