Former science teacher Dorothy Canote has been selling her herbs and vegetables at the Columbia Farmers Market since 2007, after she retired from teaching. During her early days at the market, the life-long gardener sold surplus vegetables and her freshly-cut herbs. "Since then, I have expanded my crops to include heirloom peppers, tomatoes, cut flowers, and specialty items such as ginger, turmeric, and figs," she said.
She and her husband, James, live on a small farm in Harrisburg, where James "generally supports my gardening habit by keeping my gardens plowed and my equipment running."
Dorothy starts her seedlings in a small greenhouse. Her hoophouse—or high tunnel—contains herbs, a fig tree, and rotations of cucumbers, lisianthus flowers, ginger, turmeric, garlic, and other root crops. She does not use synthetic pesticides or chemicals on her crops, and she enriches her soil with cover crops and compost. Her crops are routinely inter-planted with annuals and perennials to provide habitat and nectar sources for beneficial insects. She grows a wide range of less common and unusual plants and herbs such as woad, which is used to make blue dye, and horehound, an herb used in cough medicine.
Dorothy takes pride in the "producer only" ethic at the Columbia Farmers Market. It means that everything grown or produced comes from the farms, "the gardens, woodlands, kitchens, or shops of our members. It is true here that if you know your farmer, you know your food."
She also values her time with vendors at the market. "It is like being a part of a church family, very caring and close. Our vendors are a diverse group of wonderful people. I value greatly the opportunity to meet with them on a weekly basis and talk about our crops, our customers, and our philosophy of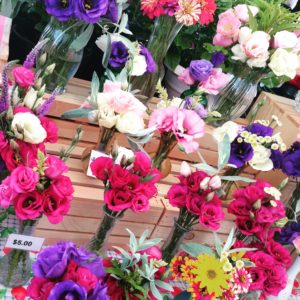 life.  Like many of these folks—despite the rigors and challenges of growing and marketing—we are doing what we love to do, working outdoors in the natural world, with our hands in the soil."

I would like to pass along the recipe Dr. Elizabeth Allemann shared with me. Together, we harvested some of the turmeric and ginger that I grow in my hoophouse in order to make this soothing, sleep-promoting bedtime drink—Dorothy Canote.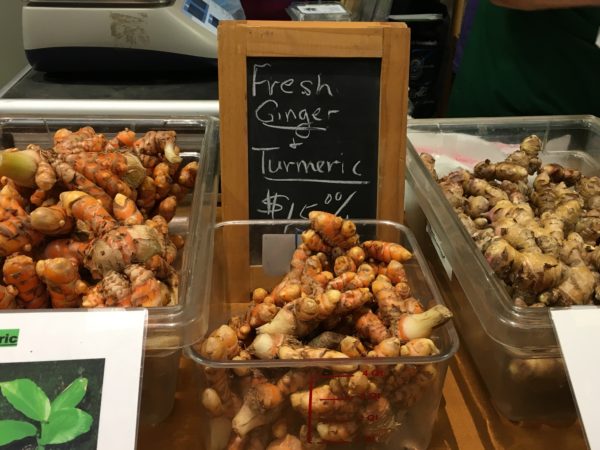 Ingredients
tumeric root
ginger root
milk warm
Ingredients

tumeric root
ginger root
milk warm
Instructions
Grate turmeric root and ginger root into a glass of warm milk. Add a little black pepper to promote the uptake and utilization of the roots' active ingredients. Add a little honey for sweetening if desired.