Vendor Spotlight: Grandma Barbs Pies and Produce
One Saturday in 2004, Barb Nobis, and her husband, Denny, brought Barb's cinnamon rolls to the Mexico Farmers Market. The rolls sold out. This was no surprise to Jeannie, Barb's daughter-in-law and kindred baker. She calls Barb, "one of the best bakers, ever." After that good day at the market, Barb started to make bigger batches. Eventually, she added homemade bread, pies, and produce from Barb and Denny's garden in Paris, Missouri.
In 2006, Barb began bringing her baked goods, jams, produce, and pickles to the Columbia Farmers Market, under the name of Grandma Barb's Pies and Produce. Two years later—after Barb retired from her job managing Able's Quick Shop in Paris—she increased the quantity and the variety of what she sold in Columbia.
Over the years, Barb, Denny, Jeannie and Jeannie's daughter, Catie, have baked goods for farmers markets in Paris, Hannibal, and Columbia.
In 2012, Jeannie joined Barb at the Columbia Farmers Market.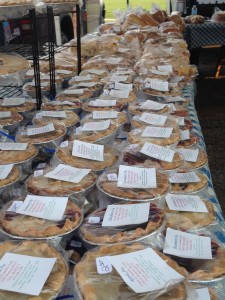 While Barb continues to do the canning and grows all the fruit and vegetables that Jeannie sells at the market, Jeannie has taken over the baking duties. "I have loved to bake for as long as I can remember," she said. "When I was 7 years old, I made homemade biscuits for my family." Jeannie makes the fruit pies, yeast breads, cinnamon rolls, cookies, sweet breads, fudges, cake balls, and the jams for the market.
"Grandma" Barb has "semi-retired" from farmers market baking, Jeannie said. She and Denny "have enjoyed taking extensive trips to Alaska, Louisiana, Texas, and are planning one to Maine this fall. They have earned the privilege of doing what they want, when they want." Even so, Barb keeps her hand in baking and pickling.
In December of 2015, she received the Missouri Made Award at the Governor's Conference on Agriculture for her pickles and cobblers.
Jeannie continues to carry the torch. She brings her baked goods, jams and Grandma Barb's pickled vegetables to Columbia every Saturday, where she continues to enjoy the "diversity of people, and cultures."
Barb and Jeannie offered this recipe, made from their cinnamon bread, which "makes the best French toast," Jeannie said. Jeannie also notes that you can freeze want you don't eat, and microwave, "for a quick breakfast."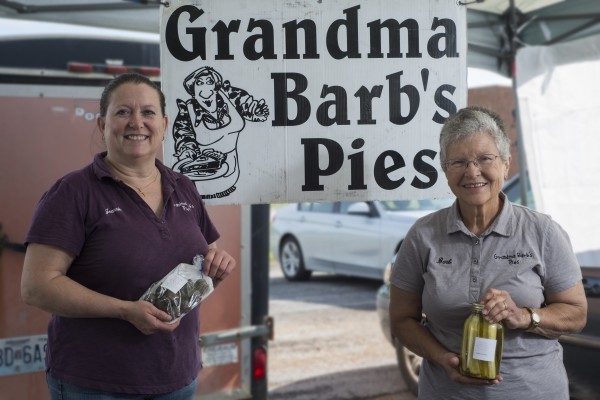 2

eggs

beaten

1/2

cup

milk

1

teaspoon

cinnamon

1/4

teaspoon

vanilla

1

tablespoon

butter

1

loaf

cinnamon bread

sliced
2

eggs

beaten

1/2

cup

milk

1

teaspoon

cinnamon

1/4

teaspoon

vanilla

1

tablespoon

butter

1

loaf

cinnamon bread

sliced
Mix together eggs, milk, cinnamon and vanilla. Melt butter in a skillet. Dunk bread slices in egg mixture, place in hot skillet. Fry on both sides until browned. Smother with your favorite syrup, or dust with powdered sugar.
Writing by Marcia Vanderlip.